Gastric Balloon
A gastric balloon is a procedure that helps people to lose weight. If you are unable to sustain weight loss through diet, exercise, and/or medicine, you may consider a weight loss surgery. Weight loss surgery, also known as bariatric surgery, is a secure proven alternative to lose weight. The surgery is not a fast or easy way out. But it can assist you to accomplish enduring advantages in your physical, emotional and social well-being when accompanied by continuous lifestyle change.

You need compassionate, extensive assistance when faced with weight loss problems. Obesity Solutions helps you overcome weight loss impediment using personalized therapy programs. These programs include our group of weight loss specialists along with bariatrical surgeons and registered dietitians.

The most efficient and minimum invasive procedure for quick, long-term weight loss provided by our bariatric specialists is the gastric balloon surgery. While losing weight, our team closely works with a primary care provider to help reduce or eliminate medications that you may already be taking.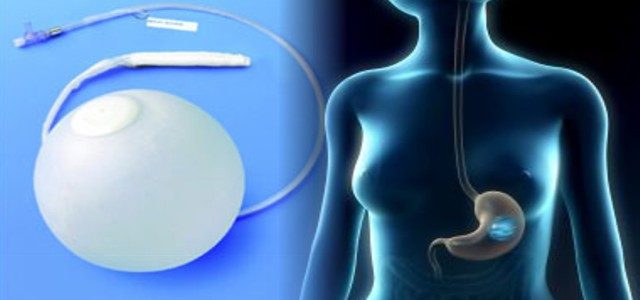 Advanced, effective weight loss surgery
A new type of weight loss operation is an intragastric balloon. This is achieved by inserting a saline filled silicone balloon into the stomach, which means it is unable to hold as much food or drink as normal. If you are overweight or obese and diet and exercise has not worked for you, than this procedure is an option. Just like with other weight loss procedures, an intragastric balloon needs dedication to healthier lifestyles. You must permanently create healthy diet adjustments and periodic work-outs to make sure the intragastric balloon operation has a lasting success.

This minimally invasive surgery is associated with less pain, a shorter hospital stay and fewer complications. Thousands of these processes have been carried out by our skilled surgeons. You're in excellent hands as a patient.
This procedure can:
• Help regulate sweet cravings and carbohydrate;
• Reduce starvation and enhanced satiety with less food;
• Be reversed. Half of the patients are able to leave hospital the same day or the day after the procedure. The other half is home before the second night.


We're With You at Every Step

You are not alone in this journey. Our program is run by a team of specialists who are here to help you prepare for surgery, undergo a safe procedure and maintain healthy lifestyle habits designed to ensure you achieve success.
Long-term weight loss support
The weight loss team of Obestity Solutions will help you keep your weight loss and improve your health. We can help your entire body to adapt healthy habits before, during and after the operation. Our specialized registrars help you understand what you can and can not eat after surgery by drawing up a nutrition plan. This plan helps you to consume the vitamins, minerals and weight losses you require.
After surgery, our physical therapists are happy to assist you with getting stronger. If necessary, they can introduce you to personalized training courses for cardiovascular health. Exercise does not only help you to lose weight, it also increases your muscles, bone and heart health and reduces health risks. Your weight loss team at Obesity Solutions provides the attention you need, when you need it. We assist you with your weight loss and help you to maintain it by among others, guiding you and having individual appointments.