What is EOS Medical?
EOS Medical is THE official app of ECFS Obesity Solutions. EOS refers to ECFS Obesity Solutions. Medical refers to the sector in which we operate. This is how EOS Medical was born!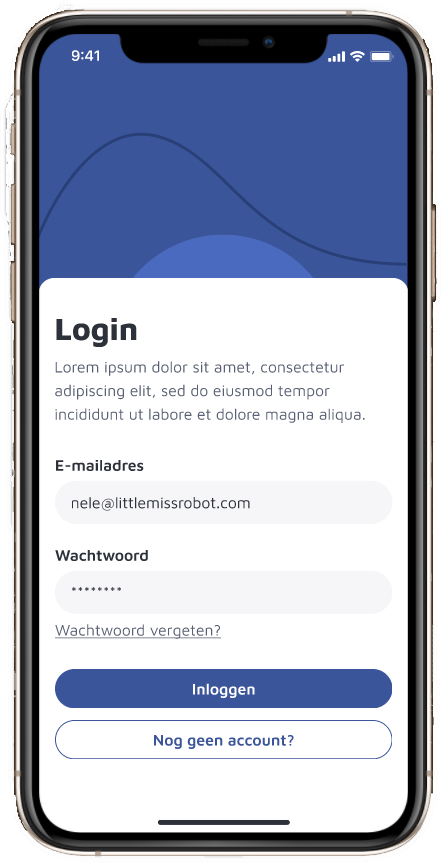 Why an app?
The digital world is evolving rapidly! At ECFS Obesity Solutions, optimization and innovation are two important goals in this evolution. That's why we developed EOS Medical: the guidance app that guides the client through the Total Care Package, offered by ECFS Obesity Solutions.
Thanks to EOS Medical, all important aspects of the trajectory are clearly displayed in a timeline. That way we can optimally guide our clients in every phase of their treatment! With this, we want to be the pioneer within the healthcare sector, more specifically within bariatrics, and demonstrate that personalized care and continuous support really are our top priorities! In this way, we will also remain available all times of the day, 24/7, by supplementing our personal contact even better with our own login, our own communication platform within the app!
How did the realization occur?
To build an app, we didn't take any chances. The idea of building an app had been around for some time, but it was only in the middle of 2021 that we made the plans for EOS Medical concrete. First we looked for suitable parties to cooperate with, because you never build an app alone.
Under the motte: "who seeks, finds", we quickly found the suitable party to work with, namely Little Miss Robot! After some intensive meetings and training sessions, we could finally hold our app in our hands for the first time!
Of course, an app is never perfect from the first release. For us, at that moment, the very intensive testing period started (which is currently still ongoing). The entire ECFS team tested as many functionalities as possible to make the app as perfect as possible for our clients. Hopefully we can release a beautiful perfectly working app to you soon, because de don't go for less!
What can be done with EOS Medical?
EOS Medical has become indispensable in the journey at ECFS Obesity Solutions. Countless things can be done with the app. All of them are at least as important!
Completely forgotten when you have an appointment to have blood taken before your operation? No problem! Thanks to the personal timeline in the app, you always have all your appointments in your pocket! No more stressing about remembering dates. Sit back and relax!
Do you have a question or doubt about something? Then take a quick look at our FAQ's to see if you can find the answer there! We have already divided the FAQ into the necessary categories. No need to spend hours searching for the right answer!
You can't find your question in the FAQ's? We have a solution for that too! You can always chat with us thanks to the chat function. So you are never alone!
Don't have a question, but would like to share your results with us? How about a chat function where pictures can be shared as well? We haven't overlooked in our app, EOS Medical!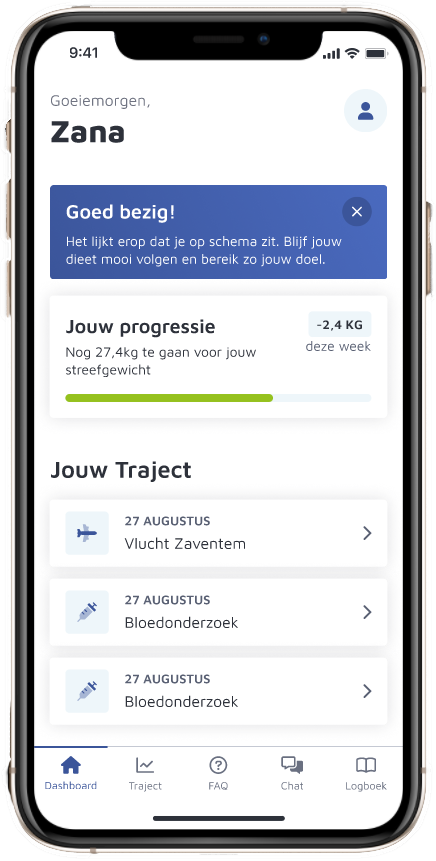 Would you like a clear evolution of your weight? EOS Medical knows how to do that too! Enter your weight daily/weekly/monthly in your personal logbook. That way you'll know exactly when you've reached your target weight and how much weight you're losing!
Would you like to test even more functionalities? Then we will test your patience for a while! We will soon communicate the release date of the app. From then on, all our clients will be able to enjoy EOS Medical!
How exactly does it work?
Easy peasy lemon squeezy! From the moment your treatment at ECFS Obesity Solutions is scheduled, you will receive an email from us. This mail contains your login information for EOS Medical! This way you can log in to our app. After that, you can feel free to change your password to one that is obvious to you or you can keep the password you obtained.
You see? Everything becomes a thousand times easier thanks to EOS Medical!
What are the benefits of EOS Medical again? 🤔
After reading this blog, do you still need a push to download EOS Medical (seems strong to us…)? Then we would like to list the advantages of our app:
Personal timeline with important appointments
Logbook for weight evolution and target weight
Centralized communication?
Personal motivation and approach
FAQ available 24/7
ECFS – team member accessible via chat function
There you go, now we're sure we've convinced you to use EOS Medical!
Still got questions or remarks? Don't hesitate to contact us via the contact form or via mail/telephone.