Nowadays, there is a lot of processed food on the go. However, this is not always good for your health. Therefore, we would like to dedicate a blog to unprocessed and processed foods and their advantages & disadvantages.
The difference between processed and unprocessed foods:
Unprocessed foods are products that have been little or no processing by industry. They are therefore fresh and pure foods as much as possible.
A simple division:
Products that come straight from nature, livestock or agriculture to your plate
Products that have been processed only slightly.
Processed foods are products that have been modified by the food industry. In these products, almost nothing of the natural basis remains. The manufacturer disguises the lack of quality with additives, such as flavourings and fragrances, and very often other processing. On average, there are 30,000 products in a supermarket. Of these, the vast majority have been processed in some way or another.
Advantages and disadvantages of processed and unprocessed foods:
Advantages of unprocessed food
Unprocessed foods are rich in:
In addition, with unprocessed food it is easier to get all the nutrients you need. Unprocessed food has much more taste than processed food. Unprocessed products surprise your taste buds more.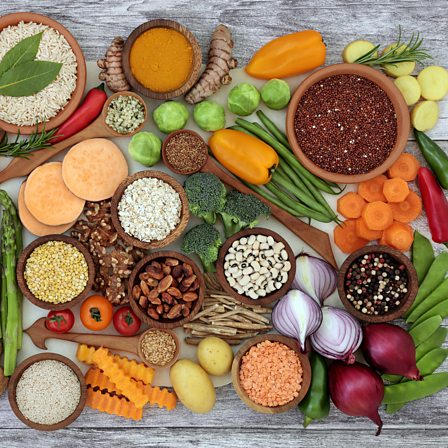 Disadvantages of processed food
Every time a product is processed, some nutrients are lost
Processed foods contain more sugar and salt than are good for you
They also contain very little fibre, vitamins and minerals
Processed products are also made to make it easy for you to keep eating
How to recognise unprocessed and processed products?
When shopping, try to choose unprocessed foods as much as possible. You can recognise this by the following characteristics:
Products that do not (have to) have a label = unprocessed products
Count the ingredients on the label:

More than 5 ingredients = big chance that this is an (ultra) processed product

Ingredients with complicated name = (ultra)processed product
Intake of processed products
The Dutch still consume too much salt and sugar by consuming processed foods. In 2014, the Ministry of Health, Welfare and Sport made agreements with the food industry to reduce the amount of salt, sugar and saturated fats in products.
Recent research shows that some improvements can be seen in the amounts of salt and sugar:
On average 0.5 grams less salt per person per day
An average of 7.5 grams less sugar per person per day
These changes go in the right direction, but are not yet sufficient.
Too much promotion of unprocessed food
In everyday life, it is difficult to avoid processed foods because they are over-promoted. In a specific study on processed foods, the content of 15,000 Belgian advertising brochures was analysed. This study shows that (ultra) processed foods are very strongly present in advertising leaflets (42 to 62%). Promotions for fresh fruit and vegetables are less present (4 to 18%), but are more often on the front page.
The promotion of (ultra) processed food unfortunately encourages people to consume more of it. It would therefore be better to show more promotions for products with a healthy Nutri-Score and to reduce promotions for unhealthy food.